Wij zijn Brand Zeevat en Birgit Zeevat van ZEEBRA Beeld en Geluid in Dronten.
Wij installeren en verkopen Beeld- en Geluidsapparatuur bij de particuliere en zakelijke klanten.
Onze kennis krijgen wij door cursussen te volgen, door onze jarenlange ervaring en door veeleisend te blijven in onze producten en installaties. "Wat kan er verbeterd worden of zijn er nieuwere systemen met andere mogelijkheden?"
Onze bekende merken: Panasonic, Yamaha, Magnat, Jamo, Oehlbach, Vogel`s, TenHaaft, Teleco
Ook kunt u abonnementen afsluiten van b.v. Canaldigitaal, Solcon, Kpn, Ziggo, Online, Telfort etc.
Installatievoorbeelden: Caisysteem camping of hotel, tv-systeem boot of caravan/ camper,  tv/ audio huisinstallatie, plaatsen en onderhoud automatische zoeksysteem van de camper, plaatsen van opnameapparatuur etc.
Met deze mooie set van rebox digitenne kijkt u voor super weinig geld! € 49.95 Rebox Re-2400 Dvb-T ontvanger Fta (Ned 1,2en 3 en regionaal) € 32.95 Funke Antenne NU VOOR MAAR € 69.-!! ...
Ten Haaft staat voor Top-kwaliteit. Elke nieuwe ontwikkeling is gebaseerd op tientallen jaren ervaring. De hoogte in ingeklapte toestand is maar zo'n 17 cm, ook bij de Twin en de Skew. Dat komt door de slimme constructie: de gebogen vorm van de feed-arm is uiterst ruimtebesparend bij het opbergen. Er is geen dakcontact en hierdoor vrijwel geruisloos. Gewicht van de buitenunit: circa 11 kg Diameter van de spiegel: 85 cm Het "brein" van de Oyster® is de besturingsunit, de FeatureBox. Deze maakt berekeningen en heeft een regelende functie. Bij de Vision-variant communiceert u met de FeatureBox via de bedieningsunit, bij de Premium-variant gebruikt u daarvoor uw tv-afstandsbediening. Dankzij de mobiele app kunt u de FeatureBox ook aansturen met uw smartphone. U beschikt over de belangrijkste bedieningsfuncties en kunt bijvoorbeeld de antenne ook van buiten aan- of uitschakelen, van satelliet veranderen of de systeeminstellingen laten weergeven. De FeatureBox kan dus meer en is toch slanker geworden. Behoorlijk vervelend als de technische karakteristieken van de satellietsignalen plotseling veranderen, u ergens in Europa op vakantie bent en opeens niets meer werkt. Vaak helpt dan alleen nog een update. Die programmeren onze technici bliksemsnel, maar moet dan wel nog worden geüpload op uw satellietantenne. Uw Oyster® ontvangt online updates via uw smartphone (of via USB-stick). Dat is geen leuk speeltje maar uiterst functioneel. De update wordt direct naar uw mobiele telefoon gestuurd en van daaruit in het systeem ingevoerd. U kunt een gratis app downloaden voor uw Oyster® , die behalve de update-functie nog een hele reeks handige opties biedt. Wij informeren u bijvoorbeeld direct als we een verandering van satelliet-karakteristieken vaststellen. U...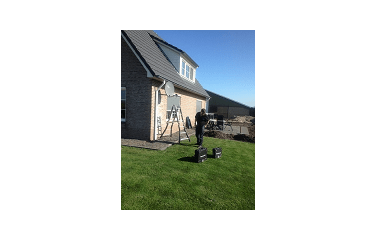 Bekijk hier installatiefoto's van Brand & Birgit.
Gratis complete nieuwe Startersset van Canaldigitaal, bij het afsluiten van een 2 jarig abonnement – Singel HD satelliet ontvanger met geïntegreerde smartkaart – schotel – lnb – muurbeugel – coax kabel Alleen verkrijgbaar bij dé Premium Canaldigitaal dealer. Bij ons krijgt u iedere 10e meter gratis van deze bijzonder goede coaxkabel. De Belden H126 coax kabel is een hoge kwaliteit coax kabel met een extra dikke binnenkern voor extra signaal en optimaal contact oppervlak. € 1.65 per meter, 10 meter voor € 14.85 (9 x € 1.65). Gratis kompas bij de aankoop van een schotel met lnb. Met behulp van dit kompas weet u precies waar 23 graden oost is. Gratis pen bij elke aankoop boven de 15.-. Gratis pet en tas bij aankoop van een Oyster systeem....